Experience real adventures in real spaces! And together with friends, schoolmates, siblings and other family members it's even more fun! Book an Escape Room for kids now!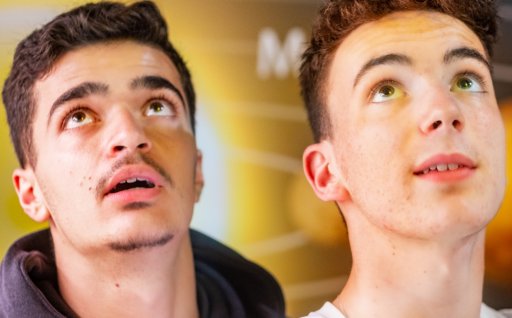 Slide
Children's birthday party
Very much fun and good humor are guaranteed for this special day with us! And that in any weather!
Make your children a huge joy and let them experience a real adventure together with their friends. A birthday that will be remembered!
As a special feature, we can integrate and hide a gift (or several) brought along into the game. Experience has shown that this form of surprise goes down very well with the surprised birthday children.
An adventure for the whole class? Of course!
This extraordinary excursion is a unique experience for everyone that promotes class cohesion, teamwork, logical thinking, as well as creativity and other extremely valuable skills. Together in smaller teams, several missions are experienced simultaneously. Thereby, the children can choose their favorite topic.
At the hunt4hint Escape Room there are riddles for young and old! While the children get mainly search and puzzle tasks, some tricky brainteasers are reserved for teenagers and adults. Have fun together for 1 hour and explore new worlds in Munich with your family!
Tips for adults
When groups of children (under 18s) play, an accompanying adult is always required as a supervisor on the adventure.
We do not lock anyone in! All team members can leave the missions through the door at any time! In our adventures, unlike many classic escape games, the goal is not to escape from the room – there is always a much more important mission to complete, such as finding the long-forgotten treasure, or saving the world from the arrival of the aliens.
Give the children time and space to look for things and discover clues. If you already know the solution, don't tell them right away, allow the children the great feeling of having done it themselves.
Let the children do things for themselves. Even if it sometimes doesn't go as quickly when it comes to skill-based tasks, be patient. Children can usually do it on their own.
Guide them in the right direction with little hints if they get stuck.
If you get stuck, let the children ask the game master …
Why Escape Room for kids?
Rummage through every nook and cranny. Pulling lines, turning knobs, finding keys, opening doors and getting ahead together. Kids have huge fun with this and are often smarter heroes than their own parents.
For today's childhood, Escape Games offer a wonderful opportunity, contrary to the mostly media-based passive consumption, to use one's own senses and to use one's own possibilities to physically experience real things together with friends or family – or to put it more simply – to collect real experiences.
In the group, cohesion and cooperation are needed to reach the goal. By solving tricky tasks together, logic, powers of deduction, abstract thinking and, most importantly, joint communication are promoted. The achieved goals increase the self-esteem and self-confidence of the children. They are strengthened in their development with the positive self-experience. These effects naturally also apply to the adults.
Which missions are suitable for children?
Slide
Missions at hunt4hint - Escape game Munich
A sailing ship alone in the ocean… believed to have been lost for 100 years. A message in a bottle washed ashore… A mysterious message… A secret… Are you ready to board the ship?
The professor has finished his life's work: a stargate. All he wanted was a better life for humanity. But something terrible and unexpected happened ... and now the only question is: will humanity ever have a future? ... It's up to you!
The book of secrets was discovered by thieves and almost kidnapped from the realm of the senses. On the run, they had to hide it to avoid being picked up. There is little time left before the thieves return. Can you find it and bring it to safety?
Book two game rounds in a row for the period 09.04 - 24.04 and get 10% discount on the second game round!
The discount will be deducted directly on site when paying in our store. Online payments can not be discounted afterwards.
We offer exclusively for the period 09.04 - 24.04 an exciting Easter egg hunt! But do not forget to finish the room 🙂
We hide for you in the room 12 chocolate eggs, which you can find and eat after the game. During the booking you can simply select this special event.
FAQ
An Escape Room game at hunt4hint lasts 60 minutes. For your visit you should plan about 80 minutes. Before the game, there will be a short briefing by the game master. Therefore, please be there 15 minutes before your booked appointment.
We always develop our adventures for 6 people and then we are sure that we can guarantee 1 hour of fun and adventure. If you want to play with more people (maximum 8) you might finish faster.
IMPORTANT: The extra charge for 7 & 8 participants is 26€ per person and has to be paid on the spot!
Yes, as long as the maximum number of players per room is not exceeded. Please bring enough cash for this. You do not need to pre-register the extra person by phone or via email.